Speaking of engagements…I get to design my own ring
Now I was going to send this little blog out yesterday but who am I to try to steal the limelight from Prince Harry and Meghan Markle 😉 Congratulations to them, another royal wedding! What I was pleased to see was just how much thought he had gone to, to design an engagement ring that had a lot of meaning to them both; sourcing a diamond from Botswana where they both had happy memories of.
So yesterday I was going to announce that several weeks ago I got engaged!
What most people were really surprised about was that I had no idea what I would choose for my engagement ring. I look at engagement rings all day! I have favourites I have made for other people, but I would always want something no one else has, obviously!
I thought I would share with you my design process of designing my own engagement ring
I decided to think of the design first, I love flowers and would love to add some travelling element to the design as we do love to travel.
I've always wanted a floral setting and lotus flowers have been a prevalent flower in so many of the countries we have visited with many sacred meanings.
This plant is known to be associated with rebirth. This is a consequence of it supposedly retracting into the water at the night, and emerging a fresh in the Sun the next day
The Egyptians, therefore, associated the lotus flower with the sun which also disappeared in the night, only to re-emerge in the morning. Therefore the lotus came to symbolize the Sun and the creation.
Hinduism: In this religion, the lotus flower meaning is associated with beauty, fertility, prosperity, spirituality, and eternity. Goddess Lakshmi, the patron of wealth and good fortune, sits on a fully bloomed pink lotus as Her divine seat and holds a lotus in Her right hand. It is also mentioned in the Mahabharata that Lakshmi emerged from a lotus which grew from the forehead of Lord Vishnu, and a garland of 108 lotus seeds is today used for the worship of Lakshmi.
The Cambodian lotus is symbolic of wisdom and spirituality, a symbol of purity, fidelity, creativity, and enlightenment.
In China, It symbolizes the holy seat of Buddha. Because the flower rises from the mud and blooms in exquisite beauty it symbolizes perfection and purity of both the heart and mind. It also represents long life and honor.
So off I went to start sketching some ideas for both the engagement and the wedding rings.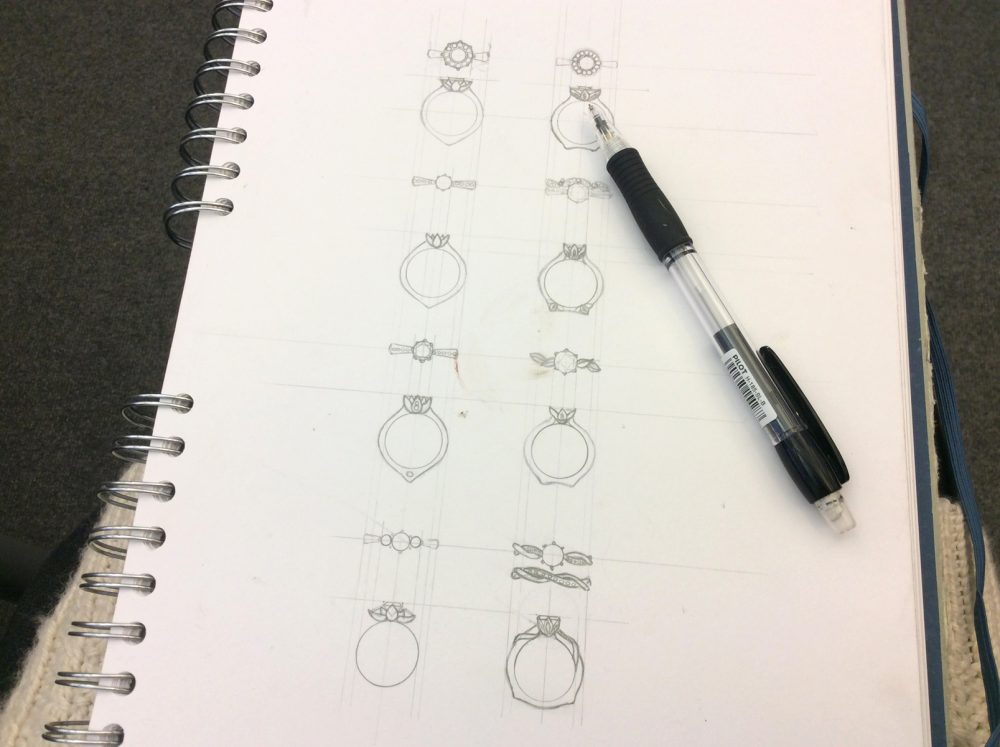 Now I have an initial idea of the rings I'm going to make I had to find the stone. Of course, I had to choose a stone that was pretty hard to find and I'm so pleased that I have.
My chosen gemstone
Two and a half years ago I fell in love with a particular sapphire at a trade show I visited and I have been looking for it since. A lovely peachy colour and quite unusual. I had been thinking of this stone ever since I saw it.
Its called a Padparadscha Sapphire from Sri Lanka. A orangey and pinky coloured gem stone which unbeknown to me is the Sinhalese word for lotus blossom!!!
How perfect is that, I really had no idea.
The sapphire is a very similar colour to the Lotus flower found on this island called Gem Island or "Ratna Dweepa".
Here's the sapphire I have found, it's beautiful and I can't wait to show everyone the final rings.
I hope this may inspire some of you on your unusual engagement ring designs and if you would like to discuss ideas with me please send me a message via email or Facebook.
You can always look at my previous engagement ring commissions here to.